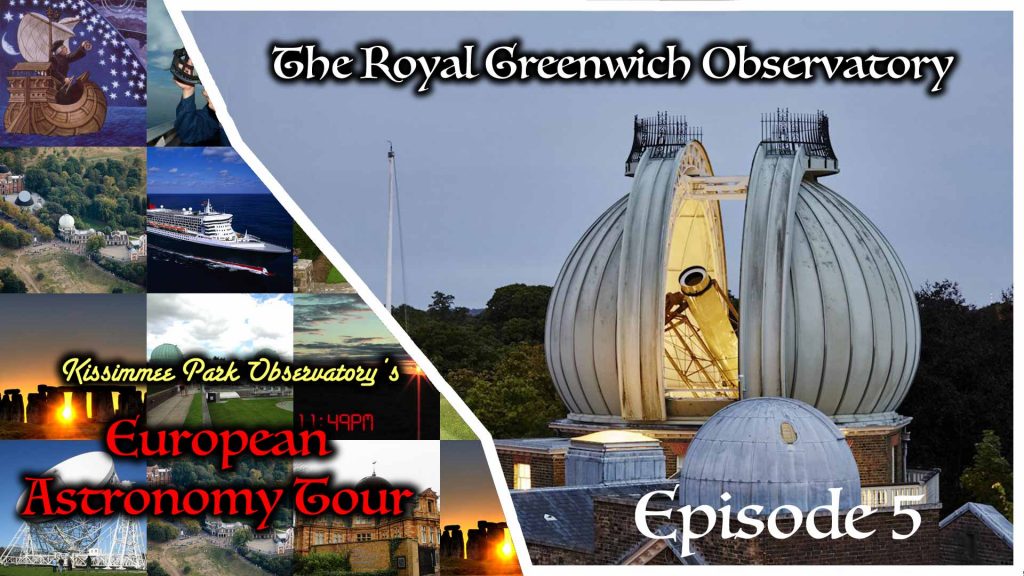 In episode EAT05 of KPO's European Astronomy Tour, we trek to the heart of Jolly Olde England, where we visit the Royal Observatory at Greenwich. This is one of the most exciting episodes of KPO's European Astronomy Tour, where we interview the curator of the museum and learn about the history of the RGO.
The RGO is the birthplace of modern timekeeping standards, and it's situated right on the prime meridian longitude line of the earth. The term Greenwich Mean Time or "GMT" was established here and provides the basis of all time zones around the globe.
In this episode, we get a tour of the Thompson 28 inch Great Equatorial Refractor Telescope, and have a chat with Dr. Louise Devoy, the curator of the RGO museum.
The main website for the Royal Observatory is rmg.co.uk/royal-observatory.
Dr Devoy's blog on the RMG site can be found at http://weblog.rmg.co.uk/collections/author/louisedevoy/
We also visit the Observatory Science Center, previous home of the ROG in Hertmonceux, Sussex, England, and see three huge telescopes in their massive green domes.
You can find our episode schedule on the main Tour page. As we are traveling around, I will be editing and uploading from the many hostels in which we will be staying, and the internet may be shaky, so visit the Tour page often to see any adjustments that may occur.
---
Watch this week's show on YouTube:

---
You can find the Show Notes on our website at http://kpobservatory.org/EAT05/. Please feel free to leave a question or comment, and we will respond as quickly as we can.
---
Thanks for your interest in KPO. If you enjoyed the show, here's how you can help:
Subscribe to our podcast on iTunes
Honestly rate and review us on iTunes
Share the videos and podcasts out to your friends.
And if you really liked it, and if you'd like to help us create more, please consider supporting us by these methods:
Follow KPO using these links:
Star Chart Images & Simulations Courtesy of SkySafari Astronomy http://SkySafariAstronomy.com
Kissimmee Park Observatory is dedicated to the study and imaging of the night sky, and performing astronomy outreach for individuals and groups.