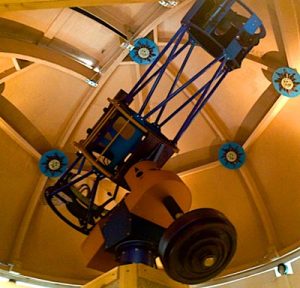 Here is some helpful information if you are planning to come to Kissimmee Park Observatory (KPO) to attend an observing session. 
I'm Dave Hearn, your host!
Getting There
You can find our facility by looking at the map in our About section here on Facebook.
If you are coming from the North, take exit 240 from the Turnpike (Kissimmee Park Road). Please be aware that this is a "no cash" exit; 

you will need a SunPass

. if you don't have one, you will need to get off the Turnpike at exit 244 (SR 192) and head east to Canoe Creek Road, then take a right at the Publix. Proceed through several lights until you see signs for the Turnpike. At Kissimmee Park Road turn right and go over the Turnpike.
The road from the turnpike is a long, straight road, with one hard right-hand curve. Please be very careful on this curve; there have been many accidents. Also after dark, be VERY careful and watch for deer; we love our wild animals out here on the peninsula, and I'm sure you love the nice shiny front of your car too.
After the curve, continue about three miles, then turn right on Cherokee Road. At this point you will be very close to the lake (Big Lake Toho). There are a bunch of reflectors to warn you that you are about to drive into the lake.
Proceed (slowly) for about a half mile, and turn right on Orangewood Avenue. We are the first house on the right (a log cabin with a green roof); you will see the Observatory with its green dome (now white!).
The Gate to the property should be open – if for some reason it is not, just wait; I will be aware that people will be coming and will let you in. We have animals on the property so do not open the gate yourself (more on that below).
Try to get there before dark if at all possible (see below). If you are driving in before dark, look for our Bald Eagles that like to perch on top of the tall poles.
2. Parking
Parking varies depending on what we have set up. Sometimes you will park directly on the right after you enter the gate, sometimes cars will be parked in the field near the Observatory building itself.
If you have telescope equipment to set up, you may drive into the Observatory field. I'll direct you where to park.
If you do drive onto the Observatory field (at the end of the gravel driveway) you will pass through the wooden gate. Please be careful not to scratch your car on the posts. There is a lot of clearance to fit even larger trucks.
3. It's a Farm
Please be aware that the Observatory is on a working farm, and we normally have cows and goats running around doing cowey and goatey things, including leaving presents laying around on the ground. Don't worry; none of it sticks. Well, most of the time it doesn't. Use your flashlight to light up the ground ahead of you, as you walk.
If you are setting up a telescope, it is suggested to bring a carpet to set up under the scope so you can put your equipment on it.
Bring appropriate shoes or boots to allow you to walk around the property comfortably and safely. Do not wear flip flops or any open shoes.
The ground is somewhat unlevel in places around the Observatory so be careful as you are walking, particularly after dark.
There are fences with barbed wire on the property; please be careful and monitor your children.
If you are interested in seeing the animals (goats, cows, chickens, cats, dogs) let me know and I can show you the barn and its residents. This should be done before dark so the barn lights don't disturb the other observers, so plan on arriving early.
4. It's Dark Out Here
When there is no moon, it is very dark in the Observatory field, so please bring a flashlight. When your eyes are dark-adapted, it is easy to see the Milky Way in the very dark Southern Sky. The northern sky is a bit light-polluted by Kissimmee and OIA. But the south sky is great; it is completely dark right down to the treeline.
Amateur astronomers generally use

flashlights with red filters

to preserve our night vision. If you bring a normal white flashlight, please only use it when you are away from the other observers and always point it to the ground. Never point a flashlight into someone's eyes or face; this will cause them to lose their night vision for to up to 30 minutes and they will not be able to enjoy the stars while their eye pupils are opening back up.
In the warmer months, please make sure to bring mosquito repellant. This is Florida!
Bring a lounge chair in which to relax on the Observatory deck.
5. Bathroom Facilities
KPO has no bathroom facilities (at present) out at the observatory, so it is necessary to go into our house in order to use the bathroom.
To access the bathroom, walk through the wooden gate, and enter the house through the back door, pass through the entry area, into the kitchen. You will find the bathroom directly on your right. There are several stone steps while entering the house, so be careful after dark (use your flashlight).
6. In the Observatory
When entering the observatory, please make use of the mats to clean off your shoes (it is a farm after all).
When going up to the observing deck, please watch your head and step; the ceiling is low on the right side at the top of the steps.
The observatory itself can accommodate about 5-7 people comfortably; there is a couch for lounging and enjoying the ambience. Others can relax in the Studio below with it's theater.
In order to view through the KPO Reflector Telescope, it is necessary to use a large (but very stable) ladder. Anyone in your group that wants to view celestial objects must be able to use this ladder. We can use a smaller telescope for children if necessary.
No food or drink in the Observatory, please.
In our time of COVID, it is requested that everyone in your group please wear face coverings while in the observatory.
Be careful exiting the Observatory field after dark, while passing though the two gates.
Please leave the main house gate open; I will close it after the last guest leaves.
Be very careful on Kissimmee Park Road, and especially going around the curve. As mentioned above, lots of animals are about after dark.
Tell everyone about the fun time you had at KPO. Like our Facebook page, write us a 5-star review, and come back soon!