KPO – Our Mission
We're a private organization based in Saint Cloud, Florida, dedicated to creating beautiful astronomical images of the heavens, and providing astronomy outreach to people of all ages. We hold public observing sessions on a regular basis when the Florida weather permits. We love to share our facility with the local community, individuals, and youth groups. Located on a peninsula on Lake Tohopakaliga, in central Osceola County, Florida, the observatory enjoys very dark skies to the south.
KPO – Our History
Kissimmee Park Observatory was built literally from the ground up by our Owner and Director, David Hearn. Groundbreaking occurred on January 23rd, 2010, after which all the basic building construction efforts began. The telescope and support computers were finally installed, and the observatory opened for public access in January 2013.
We were careful to take lots of pictures and video along the way, and you can see all the Construction Images, and especially our 19 chapter film documentary "Building KPO" here on our site.
KPO – Equipment
The observatory houses many types of optical equipment, cameras, and computer systems to allow us to capture our beautiful digital images of the night sky.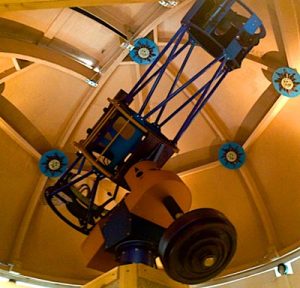 The main instrument in the observatory, imaged above, is the KPO 18″ Reflector, a standard Newtonian reflecting telescope with an original Coulter 18″ F/4.5 parabolic mirror.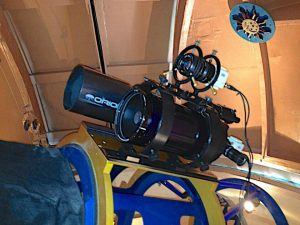 Mounted on the main scope is currently an Orion 125mm F/5 refractor for capturing wide fields images. There is also a Meade ETX-125 Maksutov optical tube assembly used for computer optical star lock during guiding. Images from this scope are captured by a Mintron integrating camera, and sent to the guiding computer system. There is also another Mintron attached to a 100mm Pentax camera lens used as an electronic finder scope, for wide field display during searching and centering of deep sky objects.
The entire optical assembly is mounted on a custom designed robotic telescope mount which can automatically locate thousands of stars and deep sky objects with high precision, all while supporting the several hundred pounds of optical tube and counterweights. The telescope is controlled by custom designed Sky Sentinel electronics and control software.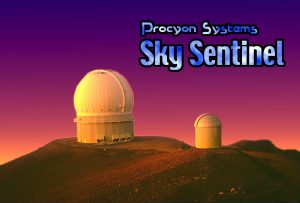 The Sky Sentinel software drives the telescope to locate deep sky object targets. It also uses electronic images, from the cameras mounted on the guide scopes, to provide an electronic optical lock during image acquisition. This allows the imaging camera to collect image data while keeping the target object perfectly stationary over a period of hours. The telescope, robotic mount, control electronics, and software were all designed and made by David Hearn.
We use Canon DSLR cameras and Astronomik light pollution reduction filters to capture our images. We stack and process our image data in software called "StarTools". The image capture sessions are automated by software called "Nebulosity" which runs on the imaging computer. Both the imaging and telescope control computers are older Macintosh systems.