Would you like to enjoy an evening in the Observatory?

In my private observing sessions you and your group will get to spend 3-4 hours under the stars and personally view celestial objects through the KPO 18″ Reflector telescope, one of the largest permanently mounted telescopes in Central Florida.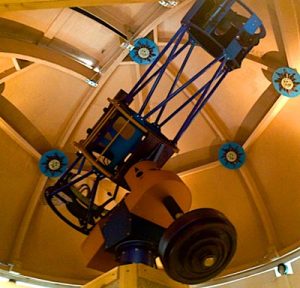 During the observing session you will see the moon and visible planets up close and personal. Additionally, we will view differently colored bright stars, star clusters, nebulae (pockets of gas and dust in space) and galaxies.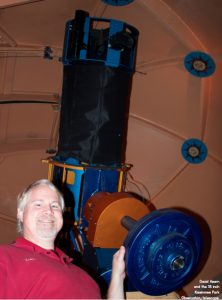 I'm Dave Hearn;  I will be your guide – I have been into astronomy for over 40 years, and have been showing the night sky to thousands of people. I love to answer your questions about astronomy and space!
See this news article that covered the observatory and our astronomy outreach programs.
Also, please see my Star Hopping site and YouTube astronomy show.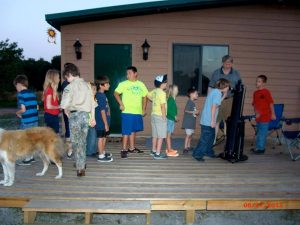 We can handle groups up to about 15, where 5 or 6 people can be up observing in the dome, a similar sized group can be down in our theater watching astronomy videos or space images taken at the observatory, and then the rest can be relaxing out on our deck, viewing the stars under the dark skies of KPO. We have two smaller telescopes that can be used while others are in the main observatory.
---
For more information about driving directions, and general advice to prepare for your private observing session, please see this post about attending an observing session at the Observatory.
---
Weather
The type of weather required for astronomy is no less than a clear sky, which is a higher requirement than most outdoor events. If the day is nice with lots of nice puffy white clouds in the sky, that won't do for celestial viewing, since those nice puffy clouds will obscure our targets in the sky! So, if we have weather issues, we may need to reschedule your session. I will do this three times before giving you an option for a refund.
---
Moon Phases
The phase of the moon generally determines how dark the sky might be. If you are interested in the Moon and the planets, a evening where there is a larger phase Moon would be better for you. Kids love the Moon, because it is bright and easy to see. But if you are interested in seeing deep sky objects, such as star clusters, nebulae, and galaxies, a night with a smaller phase Moon (or no moon at all) would be best. Bear in mind that we will observe in the early evening, so at any phase after Full, the moon will will rise later in the evening, which will allow for dark skies earlier.
Moon Calendar provided by www.Der-Mond.org.
---
Fees
1 to 5 persons – $50
6 to 10 persons – $75
11 to 15 persons – $100
No-questions-asked refund if the weather does not cooperate.
---
Observing Sessions are open for weekday sessions.
COVID NOTICE: We will be requiring everyone to wear a mask when they are inside the observatory. For now, due to health concerns we will not be providing drinks or snacks. Our apologies; we will see how it goes and continue refreshments when appropriate.
Just select your desired date on the calendar, and fill out the form below to book your private observing session.
Problems with this form? Contact Us.